---
Stradwin
Note that Stradwin is no longer being actively developed
. If you are not using Stradwin for 3D ultrasound,
you should use Stradview instead
.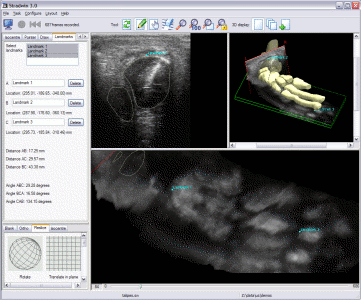 (other screenshots available
here
.) Welcome to Stradwin, an experimental, cross-platform tool primarily for freehand 3D ultrasound acquisition, visualisation and elastography. Stradwin can also be used with 3D medical data of any sort: its segmentation and surface extraction facilities are particularly powerful. It can load most types of DICOM image files and has unique facilities to measure bone cortical thickness from CT data. Online documentation:
6.03: updated Telemed driver to Echowave v4.2.0 and OptiTrack Motive driver to v2.3.6
6.02: includes a fix for the hanging 'initialising motor' message on startup, and also a work-around for problems some graphics drivers cause which results in a shifted image in each of the 2D windows
6.01: includes fixes for some mouse problems when leaving windows and also the DICOM directory load
6.0: Changes since v5.4
Current version download:
More information about the format of Stradwin data files is given
here
.
Credits
Stradwin was written by
Graham Treece
,
Richard Prager
and
Andrew Gee
who lead the Medical Imaging Group in the
Machine Intelligence Laboratory
at
Cambridge University
Engineering Department
.
Graham Treece





Medical Imaging Group